AC Voltage Regulator for the MEP-002A and MEP-003A military generators


Price: $199 each, 2 year warranty



Shipping $8 flat rate for USPS Priority Mail within the lower 48 US states
Out of the continental US, shipping is actual cost Priority Mail

To order, send a email to

with your shipping address and the email address you use for PayPal. I'll send a PayPal invoice which you can pay from your PayPal balance, or with a credit card. You don't need a PayPal account to pay the invoice with a credit card.

If you'd like to send a check, email me and I'll send instructions.
New Direct Replacement for MEP-002A and MEP-003A AC Regulators

This is a newly manufactured AC voltage regulator for the MEP-002A and MEP-003A military generators. It is a direct replacement for the original 72-5020 and 72-5338 regulators, which used jumpers to configure them for either 60 Hz or 400 Hz operation. This new board is derived from the 72-5338 board, and its components and terminals are marked to match the originals. This means it is a direct swap to install, and the references to terminal numbers and components in the technical manuals correctly refer to this board's parts.


Simplified Design
This regulator has been simplified by eliminating the extra parts and terminals needed for 400 Hz configuration. Even though there are only ten connection terminals instead of the 19 on the original board, they are numbered to match the equivalent terminals of the ten on the old board that actually had wires connected to them. Component designations, such as "R1" and "Q3" for example, match as well, and all the components are modern and currently available from electronics parts suppliers.



Much Better Heat Dissipation

The use of up to date components and a compact circuit board layout allows the regulator to be much smaller than the originals. The boards are assembled to an anodized aluminum plate, with standoffs installed that match the mounting holes of the original regulator. The plate also serves as a heat sink for the output transistor. This transistor is rated at 4 Amps maximum, where the original was rated at 2 Amps maximum, and by giving it the large plate to dissipate heat, failure is very unlikely. In fact, during testing and calibration with the apparatus shown in the military technical manual, when the procedure warned not to run the test for more than two minutes at a time to avoid destruction of the output transistor, it was run for 15 minutes straight, and the only result was a slightly warm heat sink.



Affordable But Still Reliable

To keep this board affordable, it does not use the very expensive mil-spec tantalum electrolytic capacitors the originals had, but it does use aluminum electrolytics that are rated for thousands of hours at their rated voltage, at 105°C or higher, and in this application they don't get near their rated voltage or temperature.



Simple Installation
Installation is straightforward, and detailed instructions are included. The instructions are available as a PDF download here: MEP-002A/003A Regulator Installation


We will repair or replace this regulator, or refund the purchase price, at our option, if it fails to perform properly as a result of defects in materials or workmanship, within two years of the date of purchase. Return the regulator to us at your expense, and we'll repair or replace it and ship it to you at our expense.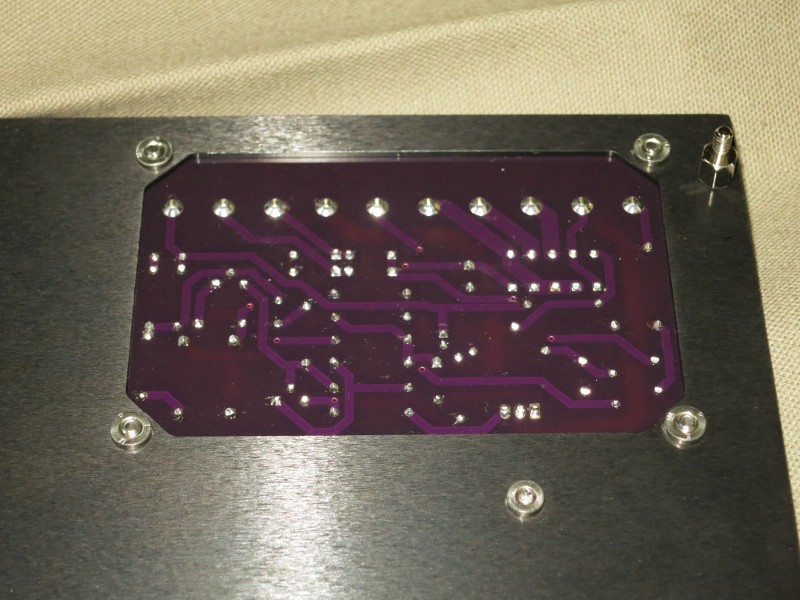 Back side view, showing pressed-in stainless nuts that allow the circuit board
to be removed without removing the mounting plate from the control cabinet.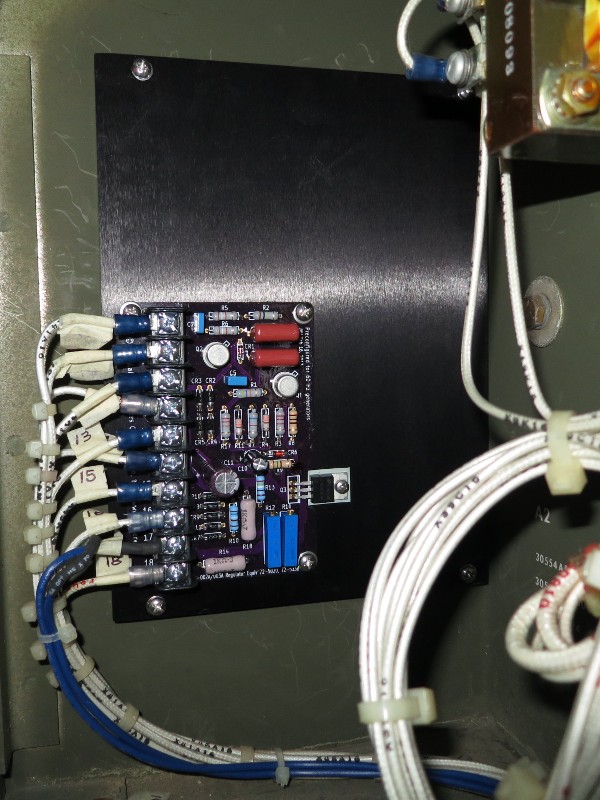 Regulator installed in MEP-003A control cabinet


Regulator Being Calibrated According to the Technical Manual Procedure